Private water taxi in Venice
Venezia Taxi Consorzio with its "Luxury" motorboats, will allow you to rent a private water taxi just for you.
A private driver will be at your disposal also for the whole day in case of conventions, important events, services or photo shootings, but also for any other particular need, ensuring top class transfers of the highest quality and comfort. We are also present with our services during the Venice Film Festival and the Biennale of Art and Architecture.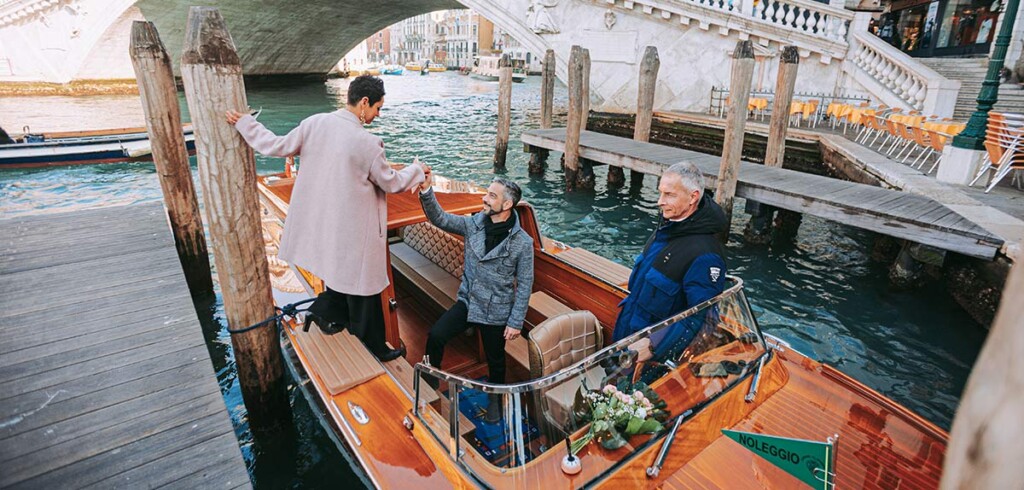 Standard Motorboats
These are our fiberglass water taxis, characterized by the typical white color, with a simple and functional line, equipped with comfortable seats and all the required safety standards.
Luxury Sport
Motorboats that while maintaining a sporty line, are characterized by the wooden deck that gives it an extra touch of elegance. In addition, the interiors are more luxurious and comfortable.
Luxury
The Luxury water taxi is a motorboat completely made of wood with luxurious interiors and design, leather seats, minibar and all the best comforts to ensure maximum satisfaction for even the most demanding customers.
Disabled transport
Always caring about the needs of each customer, we have motorboats equipped with hydraulic lifting platform. We guarantee a transport service for people with disabilities in total safety and comfort.